Preparing for the future
Sustainability is the future
Our nursery is preparing for the future. Ready to be handed on to the next generation. That is why Bredefleur is so committed to sustainability: an ongoing process which requires a long-term vision. We are therefore investing in depth for the future, because we are convinced that the lily has a lot of potential to become the most sustainable flower in the shop.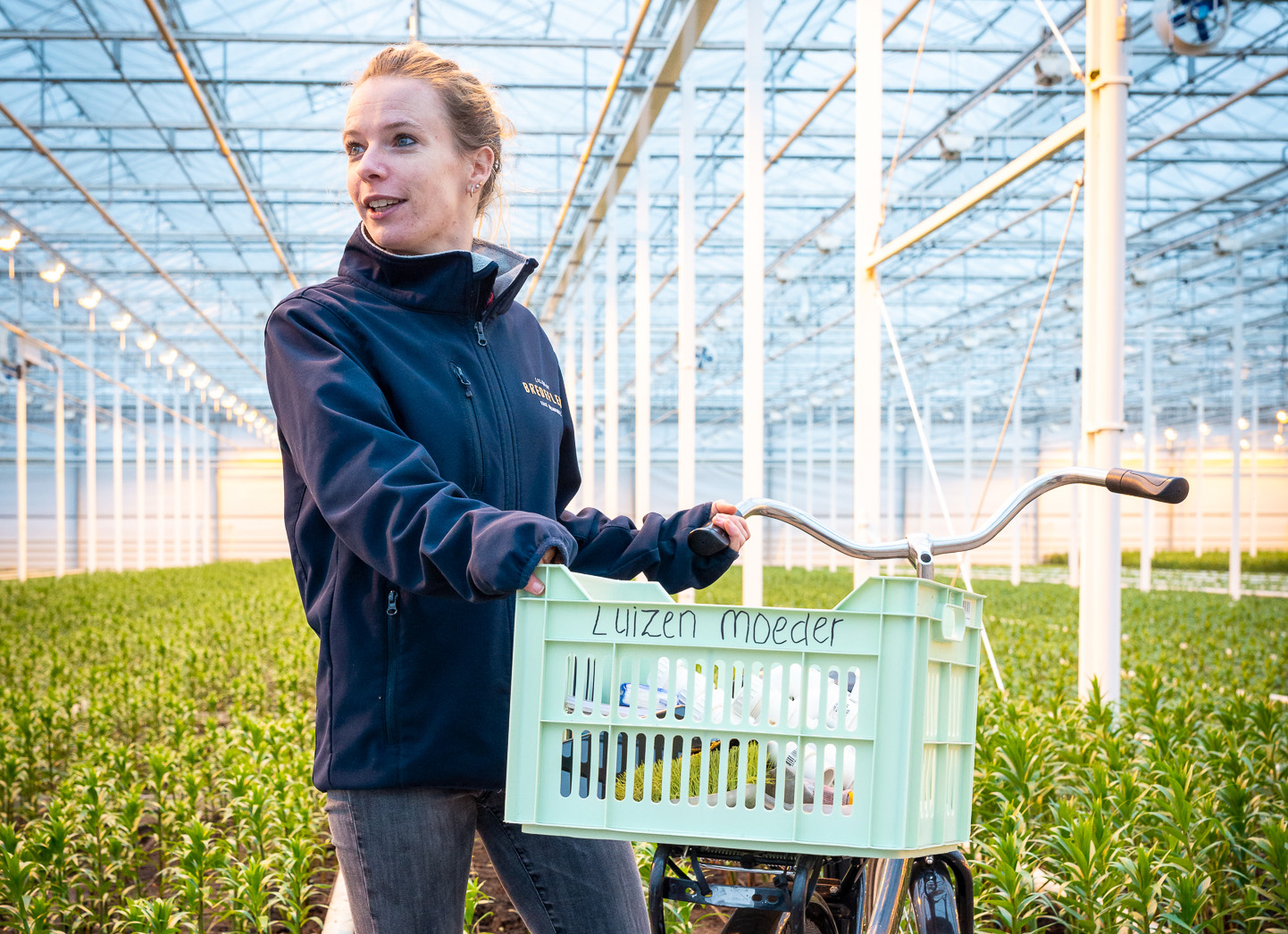 "Sustainability is not an empty phrase at our nursery. It's a question of good custodianship."
We take our responsibility
Sustainability is not an empty phrase at our nursery. It's a question of good custodianship; looking after our planet with respect for people, plants and animals. And that is why we continue to take steps to grow our products as sustainably as possible, and we are taking responsibility for the well-being of our people.
Sustainable energy
Our energy is generated as sustainably as much as possible. All our sheds and roofs feature thousands of solar panels; some 600 at our location in Moerkapelle and 3400 in Luttelgeest. The excess green power generated by these 4000 panels is fed back to hundreds of households through the sustainable energy company Vattenfal. That is accelerating the local energy transition, bringing a green nation ever closer.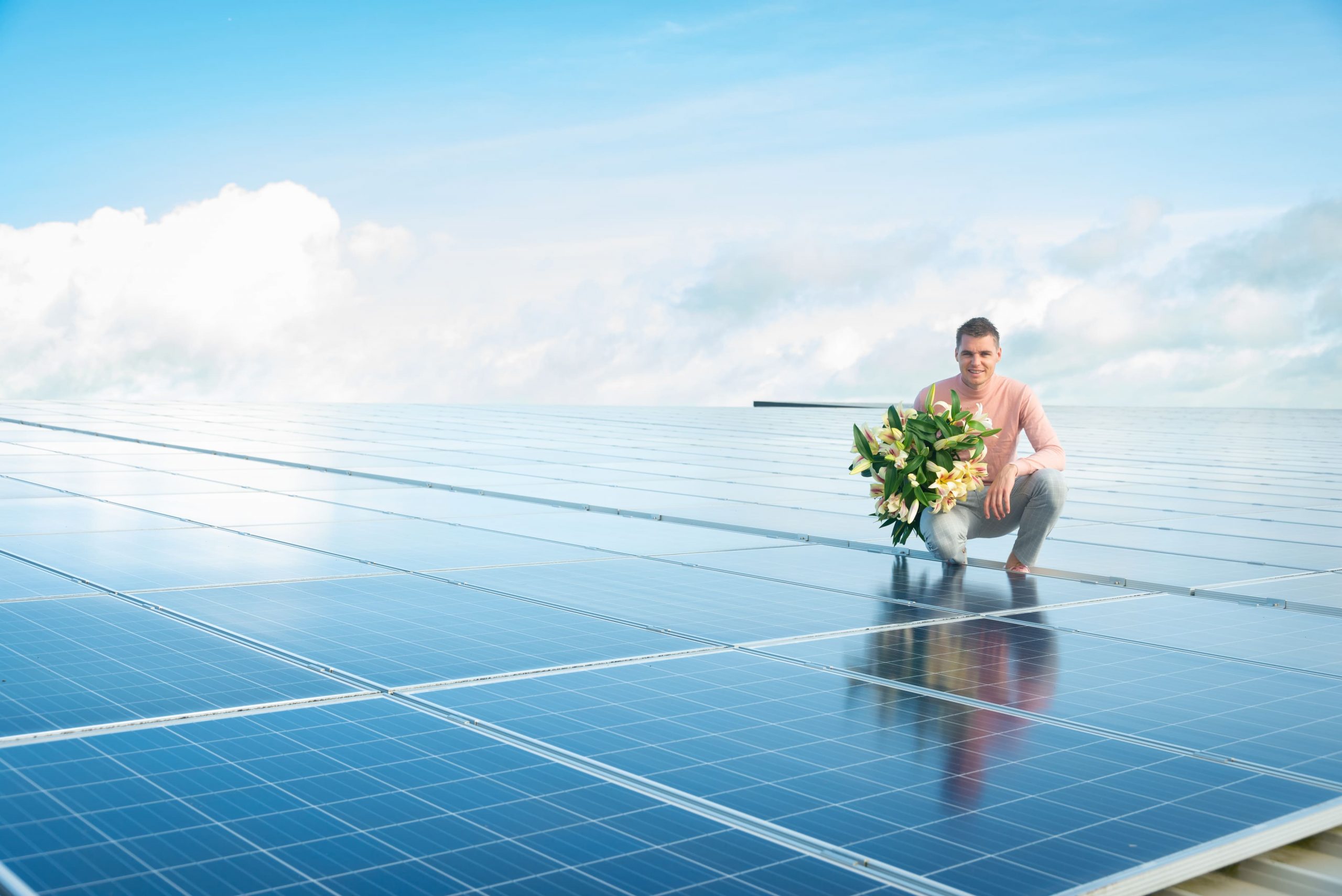 "Together we can give the sector's image a positive boost."
Being sparing with energy
In order to be sparing with our energy, we use a second energy screen in our greenhouses: a sort of insulating fabric on the ground that keeps the cold out. This keeps the greenhouses even warmer, and the use of such a second screen saves almost 25% in heating costs.
In addition, a new project is also in the offing: heating our greenhouses with geothermal heat.
100% rainwater
All our water is reused. We use 100% rainwater, so we extract nothing from the ground. That rainwater circulates in a closed water system – there is no discharge. As a result, our lily production does not exhaust the soil or create any waste streams.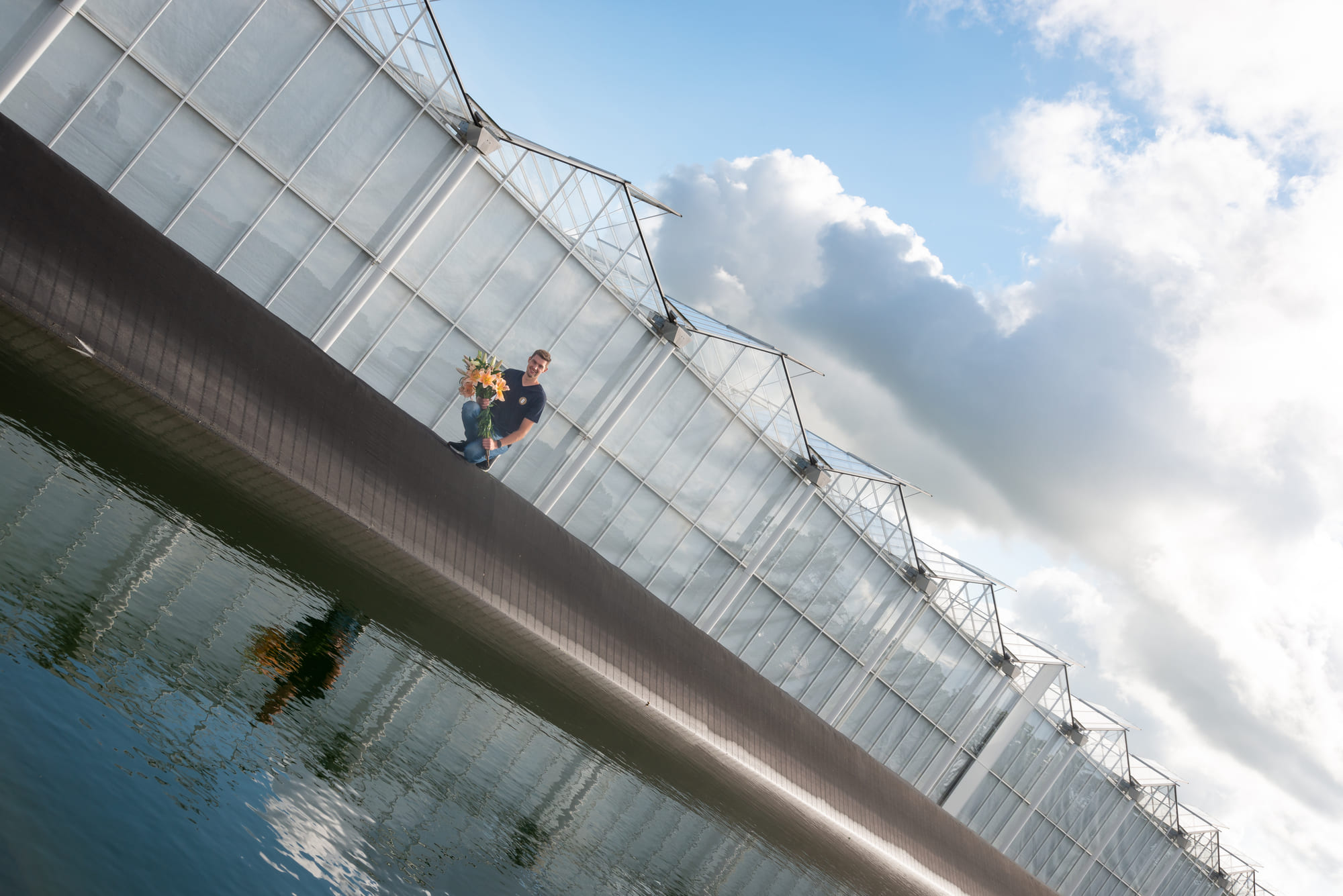 "Contributing to a greener future for the entire chain"
LED lighting
Our gas consumption is particularly driven by illuminating our flowers with assimilation lights. In order to cultivate as efficiently as possible with the lowest possible gas consumption, we are now gradually switching to LED lighting. That is saving us around 40% in consumption.
Biological crop protection
We use chemical pesticides as little as possible, and let nature take its course. Our lilies enjoy biological protection and grow with the help of wild insects: bugs that ensure that no pests and diseases get into the greenhouse.
Certificates
Bredefleur is MPS-A certified; MPS is a widely used quality mark in the flower and plant trade that helps to reduce our environmental impact. The quality mark shows how we score compare to other businesses in terms of fertiliser, pesticide and energy use. Consumption is measured once a quarter, giving us insight into how sustainably we are producing. This results in more considered use of our resources. We also hold the Global-GAP (Good Agricultural Practices) certificate. This certificate stipulates quality requirements in terms of traceability, environment (including biodiversity), the health, safety and welfare of employees, and animal welfare.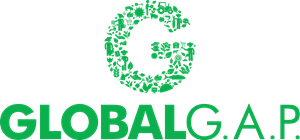 Enduring relationship with employees
Enduring relationships and intensive long-term collaboration are important to us. That is why we invest in a good bond with our employees. They have the opportunity to participate in a long-term support process that gives them the room to develop and grow.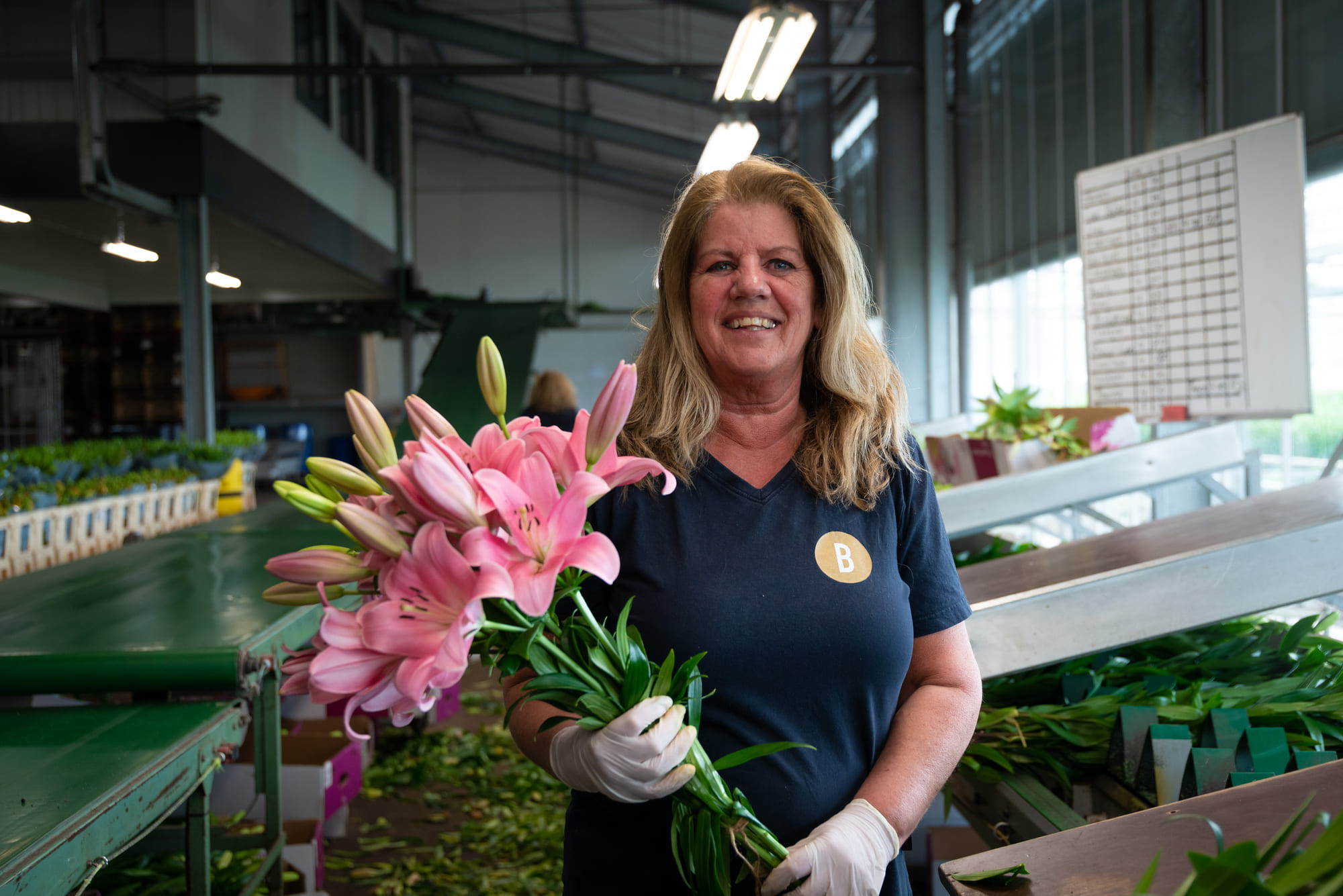 Sustainable work clothing
We are one of the first companies in the Netherlands to dress our employees in sustainable work clothing: shirts and trousers made from recycled PET bottles and sustainable organic cotton. The clothing has two certificates: GRS (Global Recycle Standard) and GOTS (Global Organic Textile Standard). The latter guarantees that the cotton has been grown organically and that the origin can be traced back to the plantation.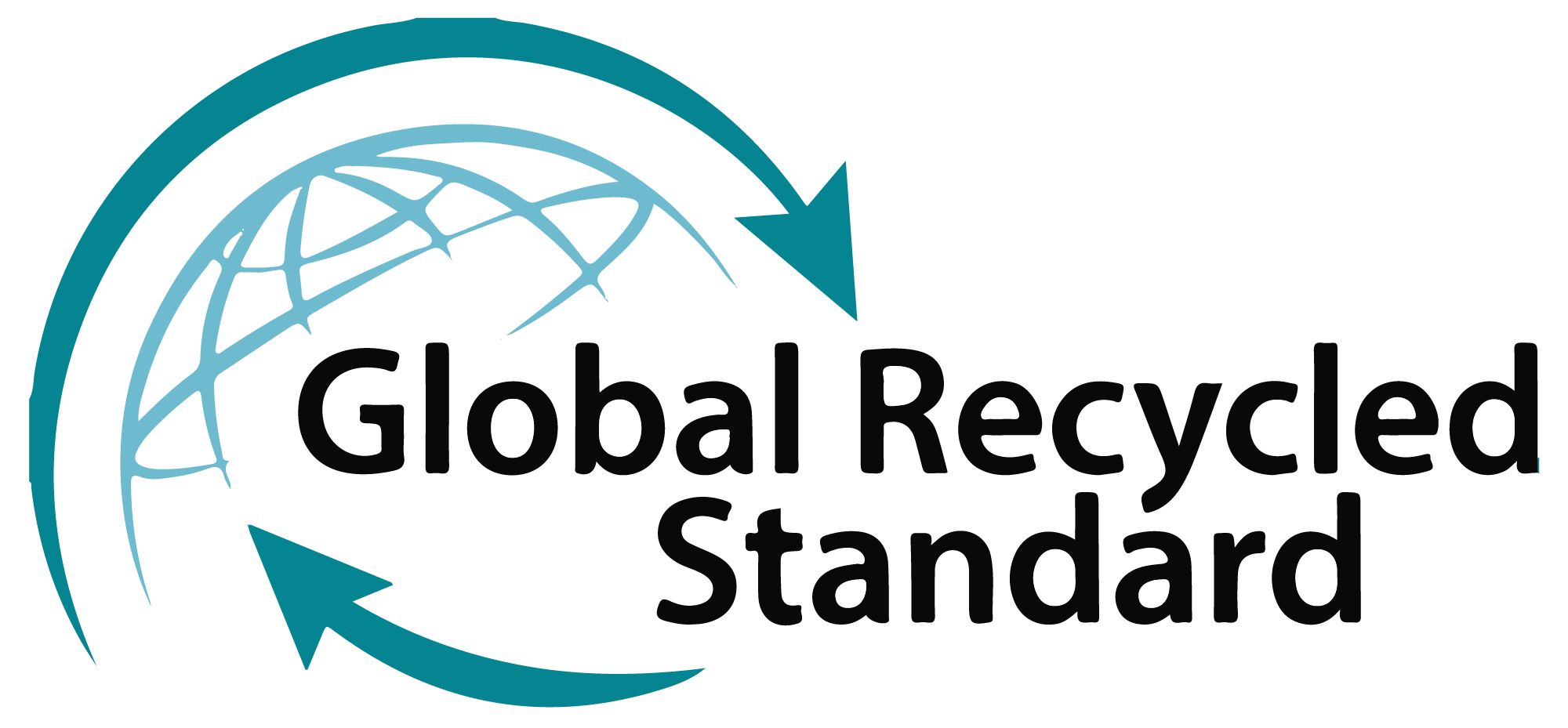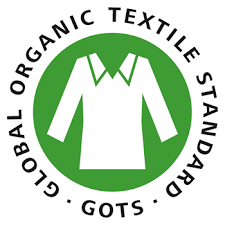 Finally
Every business within the floriculture industry has its own responsibility for bringing about greater sustainability. Together we can give the sector's image a positive boost! With our sustainability programme we are making our own contribution step by step.
Read Peter's blog about sustainability