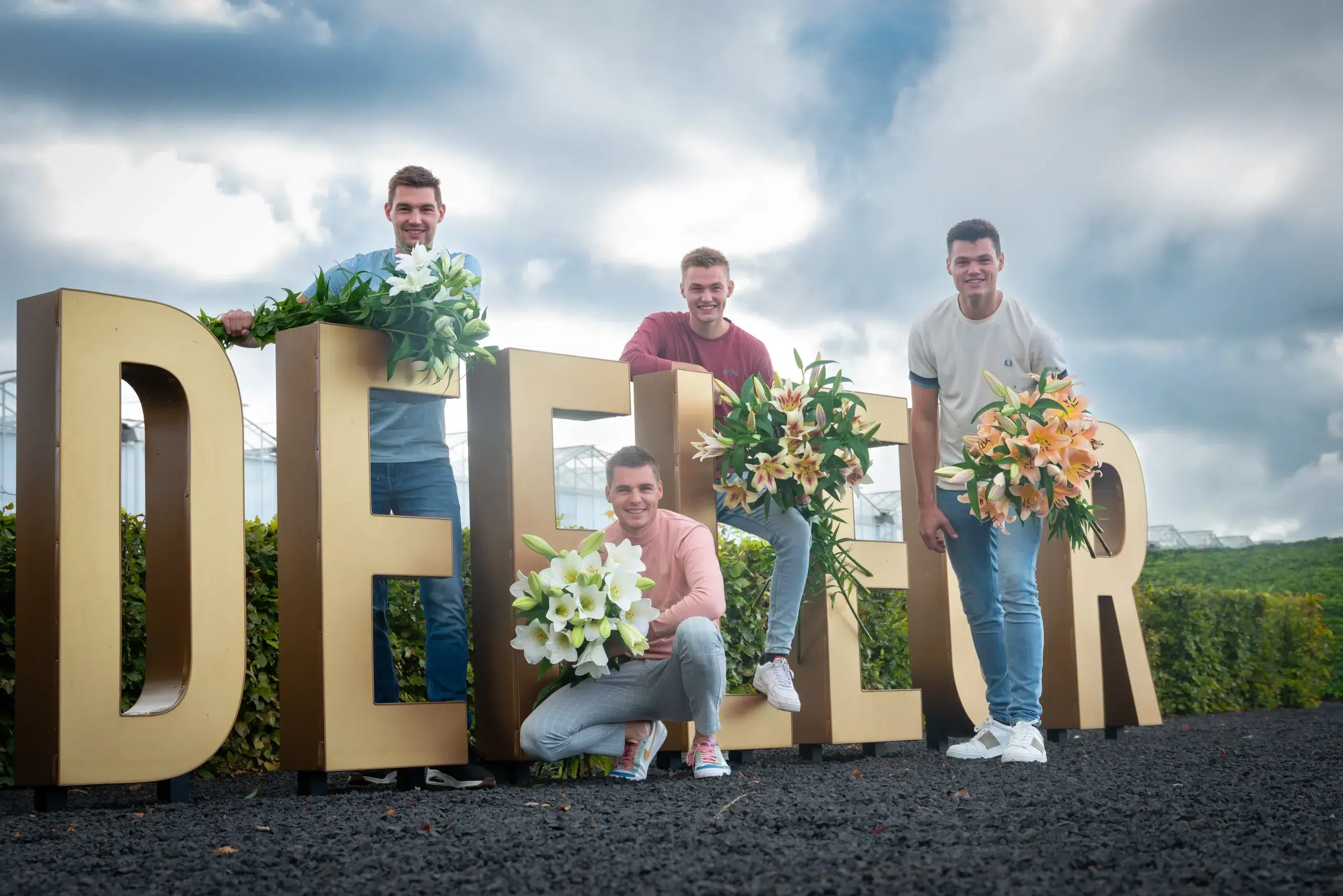 Passion for innovation and collaboration
"As a lily grower you are working with a living product and engaged with nature. It blooms and it grows, and you can guide it. That is very challenging, because a natural product will not always allow itself to be led.""
Growing lilies is the most fun you can have! Our business is constantly changing: both the product itself and everything involved. That is why we are committed to innovation in all sorts of areas. We are developing remarkable cultivars to expand our range, coming up with innovative cultivation techniques, and working hard on data gathering, pioneering automation, smart packaging and original ways of communicating.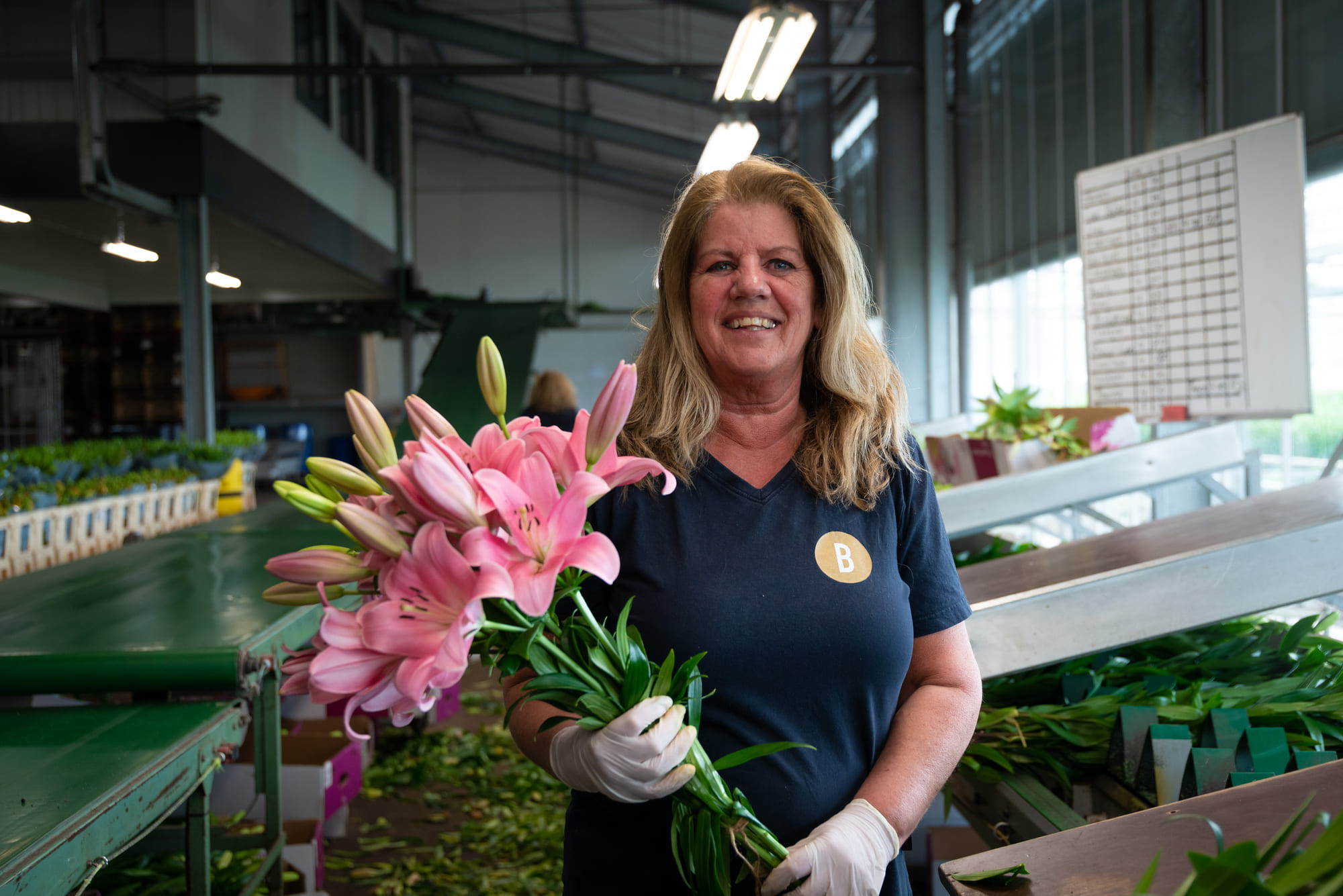 New cultivars
Our quest for new cultivars to expand the range never stops. It's a constant challenge; we carry out breeding tests with all sorts of lilies. This is how the white double-flowered lily Bowl of Beauty was created. And the beautifully shaped Apricot Fudge. Extraordinary new cultivars that make us stand out.
Innovative cultivation techniques
Maintaining soil structure
Every lily requires good soil. That is why we constantly try out alternative methods for working our soil. By turning the earth less and shaking it loose more, we work the soil as little as possible and preserve the soil structure as much as we can. That keeps bacteria and fungi intact and allows the soil life to survive.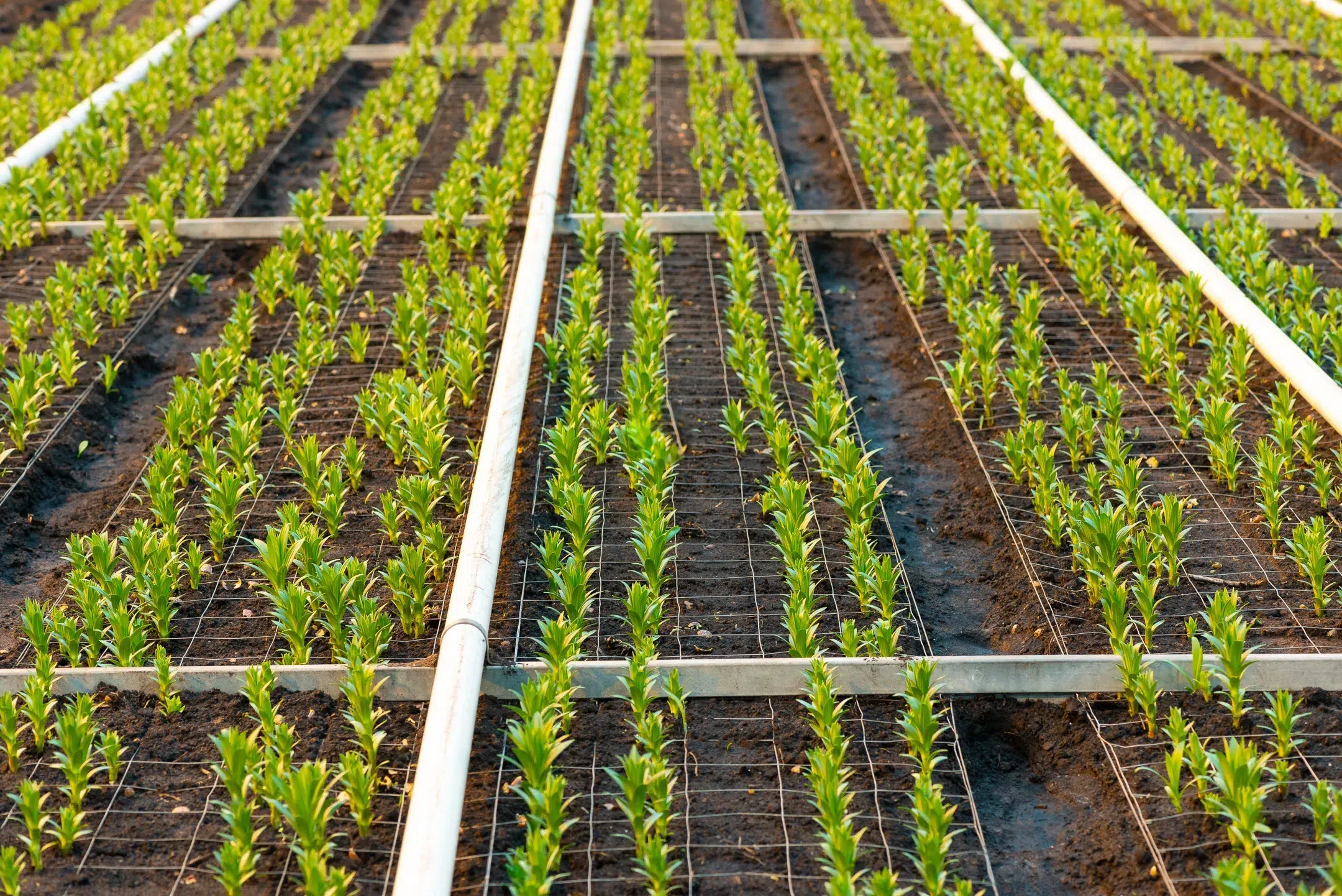 "What is the best way to achieve quality gains, we do not yet know. Work in progress!"
Recycling bulbs
Our bulbs contain all the nutrients for a lily. It would be a waste to throw this away after flowering. That is why we recycle our bulbs. After harvesting, a milling machine grinds them with the soil and they are reused as extra nutrition for new lilies.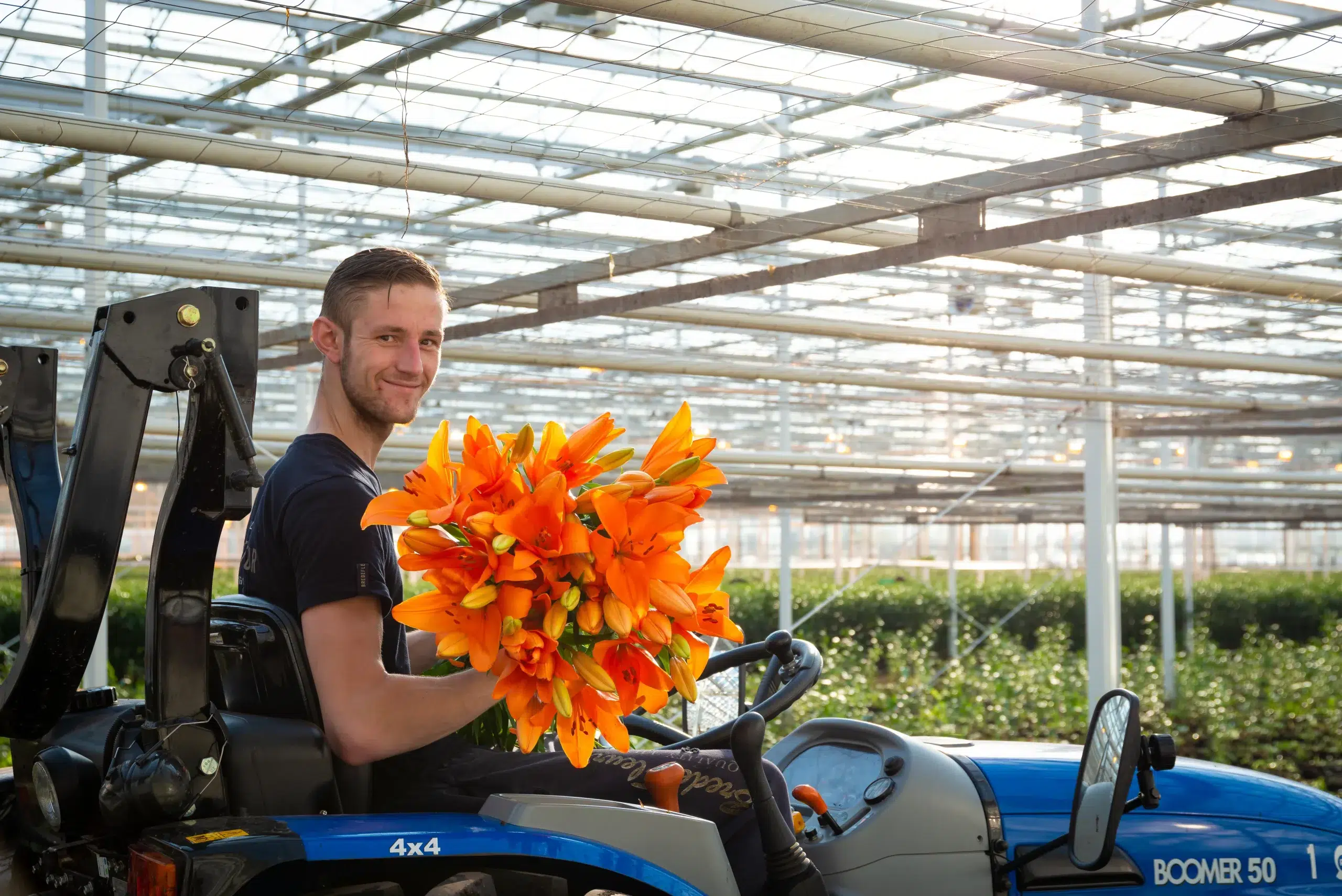 Optimising bulb defrosting
Before bulbs are planted, they need to be defrosted first. That often takes a week. It's handy for us not to defrost all the bulbs in one go. That means we have fewer peak periods during the harvesting. So we are now checking whether we can defrost the bulbs in phases, and at different temperatures. We don't know yet what the best way is to achieve quality gains. It's a work in progress!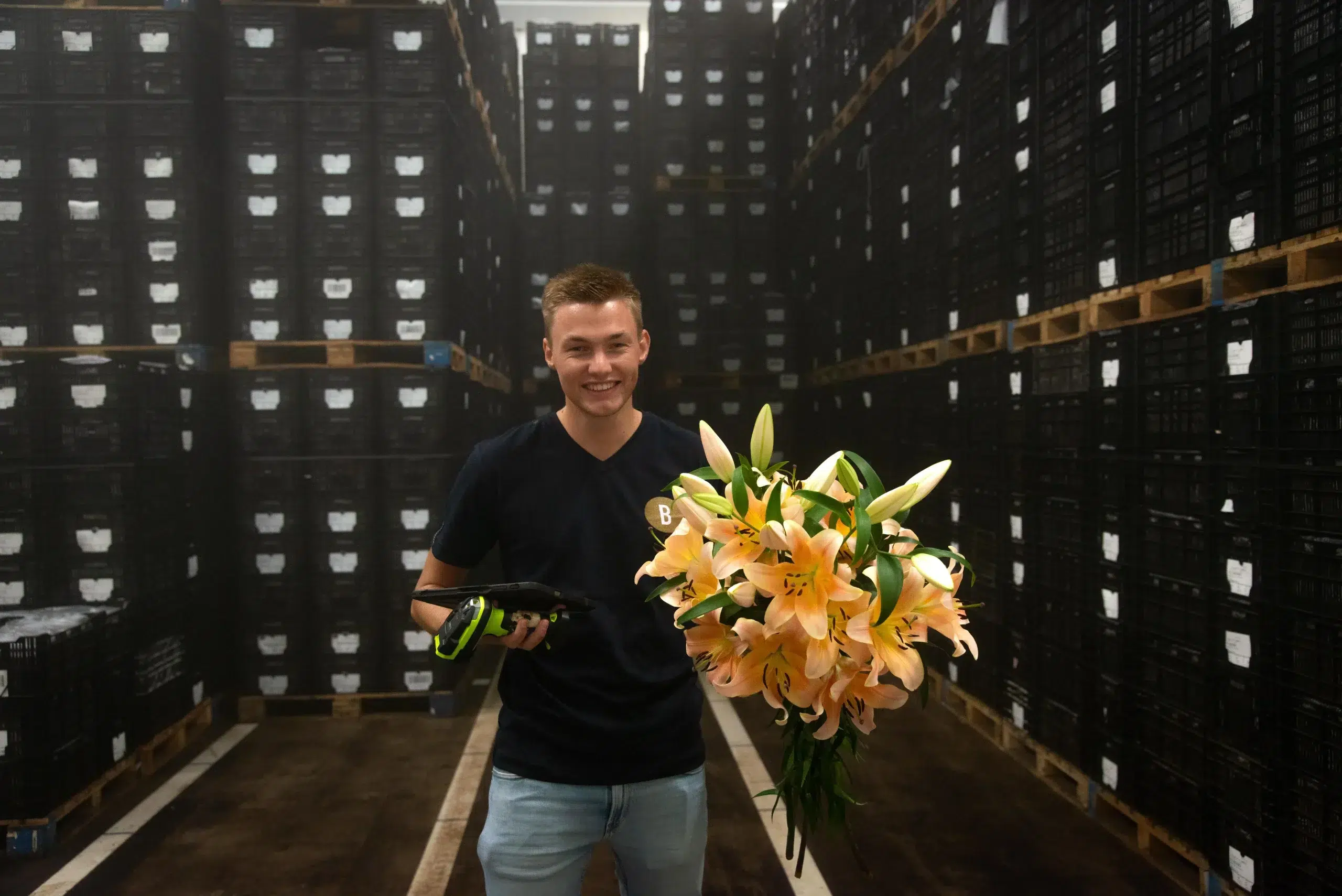 Improving health
A lily is still a living product that has to deal with all sorts of diseases. In order to make the plants less sensitive to moulds, bacteria and insects, we constantly improve the health of our plants. With plants boosters, for example, that give the plants firmer leaves. We are also working with silicium, a mineral fertiliser that improves a plant's cell structure so that moulds have less chance of developing.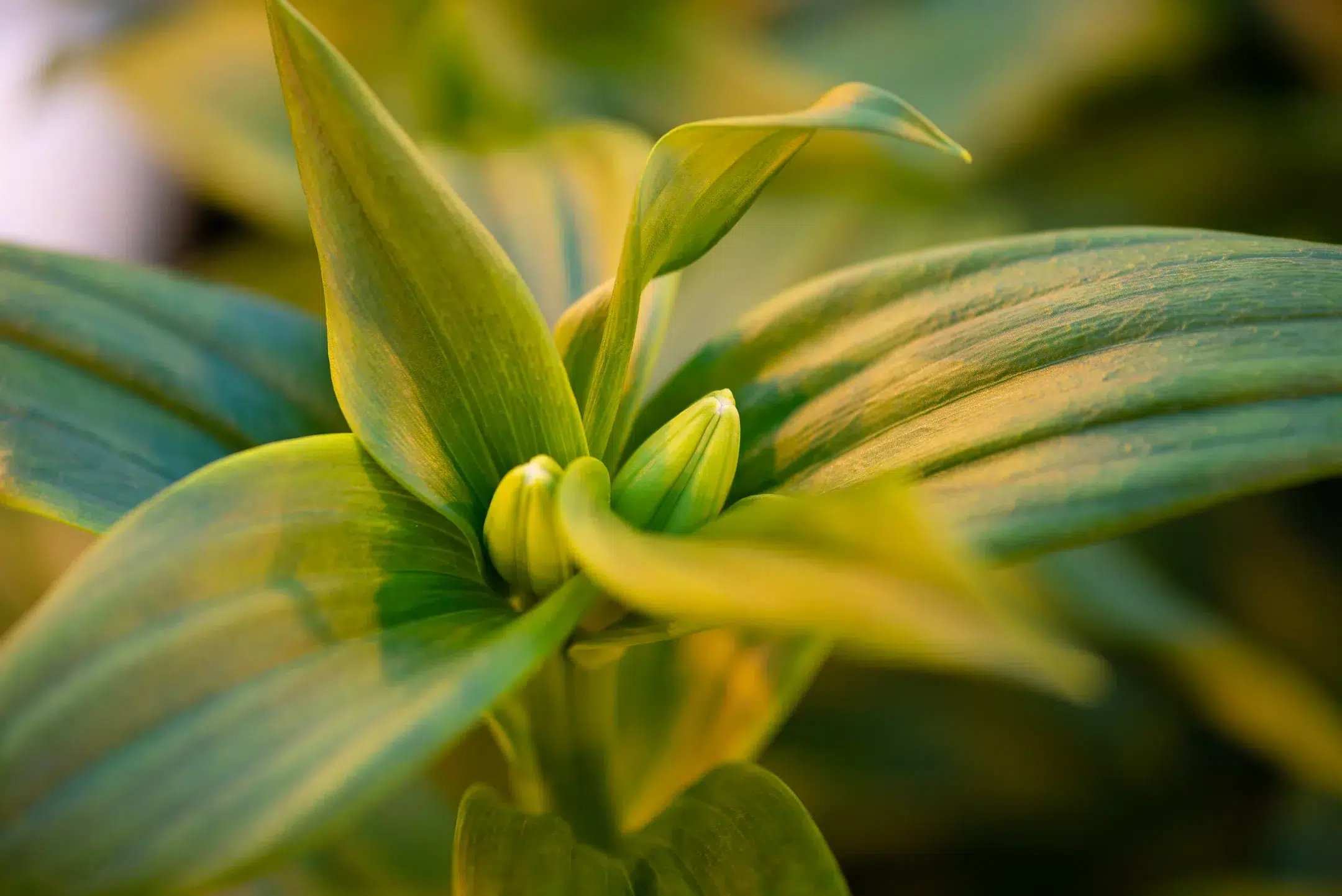 "By comparing the data, we get more and more insight into what a plant needs."
Bespoke LED lighting
We are increasingly using LED lighting in our greenhouses. As well as being sustainable, this light source offers different shades, different light colours. Each colour has its own function, and every lily is given the right amount and right light colour at every stage of growth. That means the plant gets exactly what it needs, and can be harvested more quickly.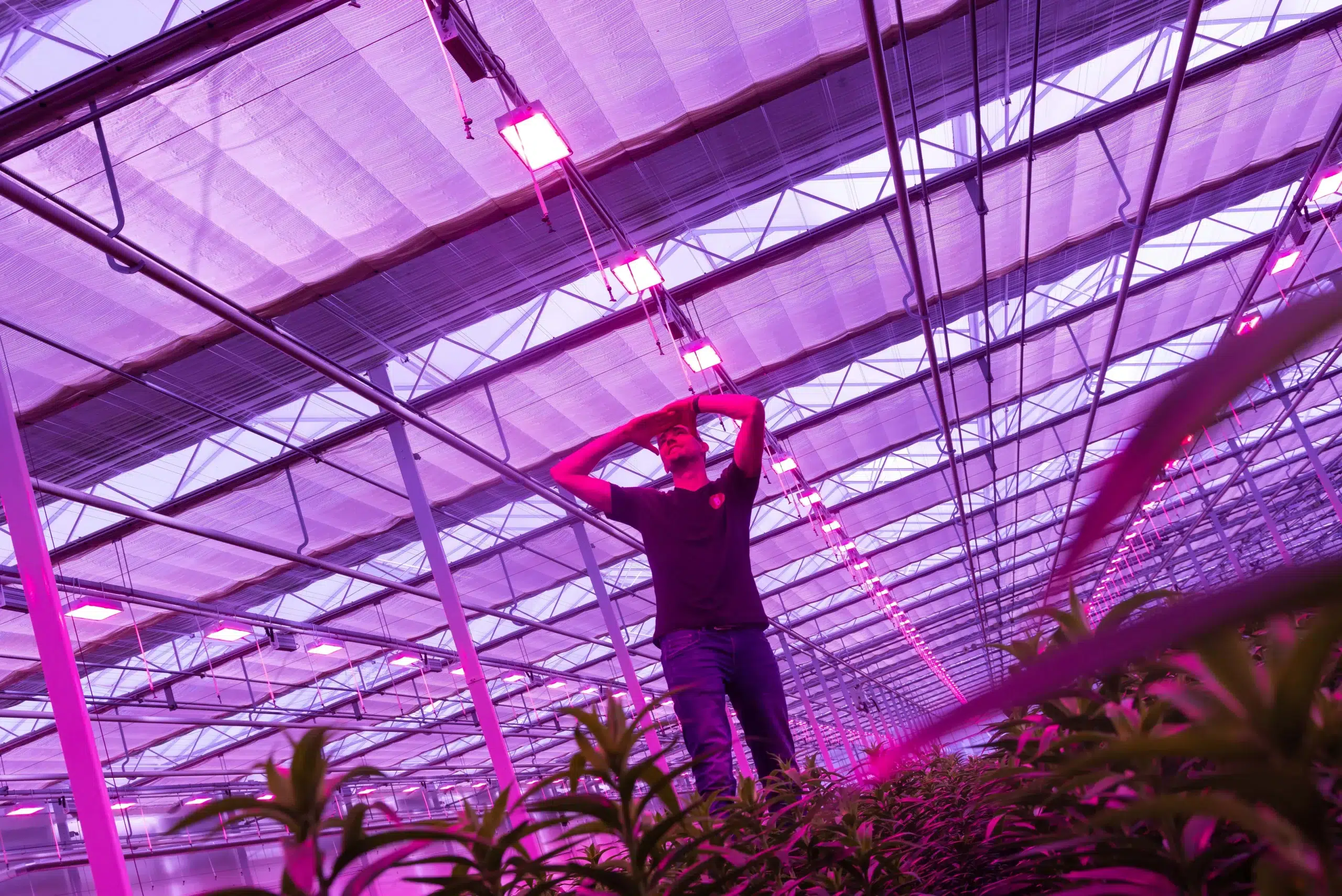 Modern data gathering
Knowledge is power, so we collect data in our greenhouses. By comparing the data, we are gaining ever more insight into what a plant needs.  For the analysis we are working with Let's Grow: they have developed a system for us with a dashboard that gives an immediate insight and which offers a year's worth of data for review. As a result, we are better at predicting what is happening and responding to this.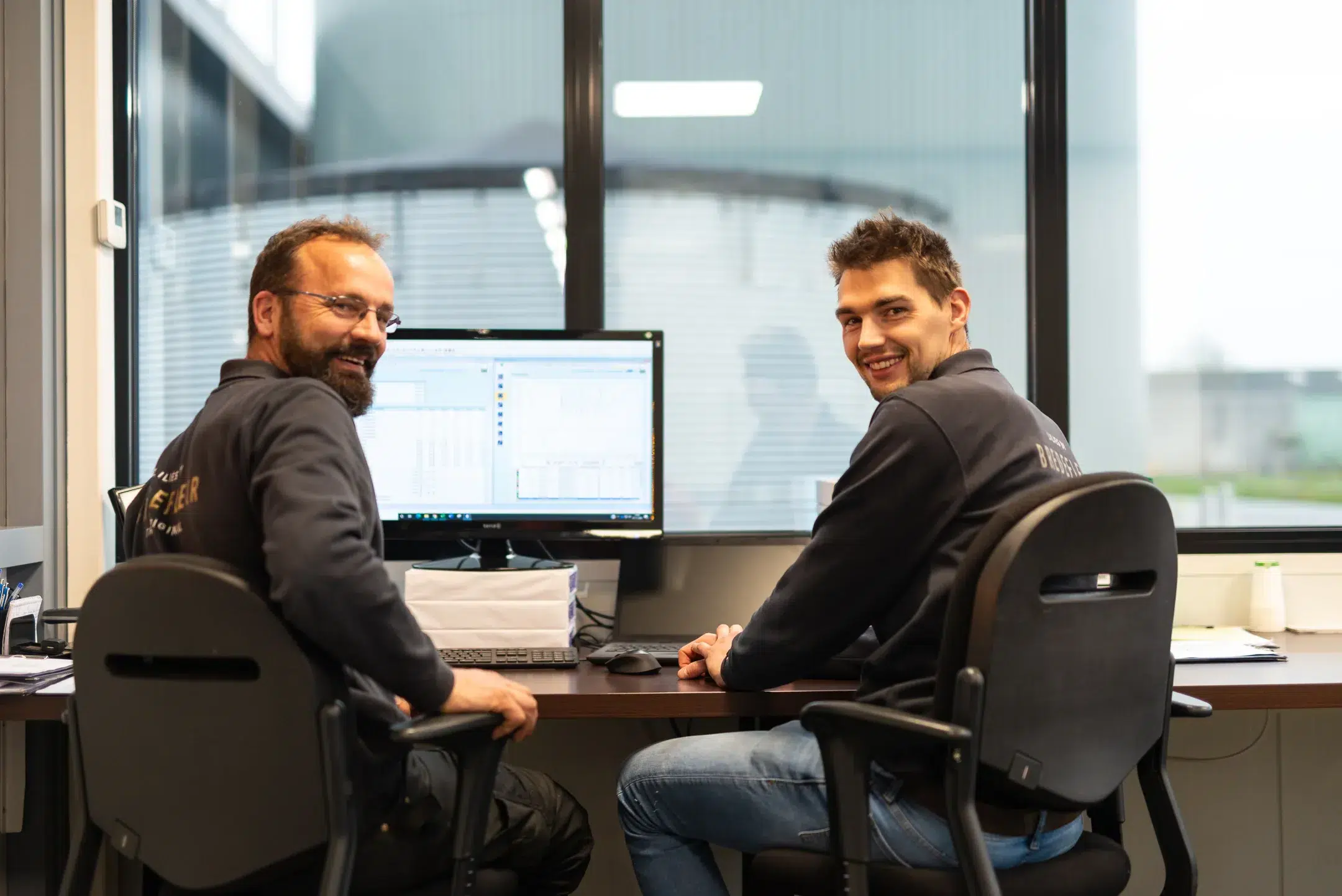 Track & Trace for the bulb
One vital computer program is Bulbmanager: we use this to follow our bulbs in a sort of track & trace system. From the purchase, storage in the chiller, scheduling in the greenhouse through to harvesting. We use the collected data to draw up a strict planting schedule.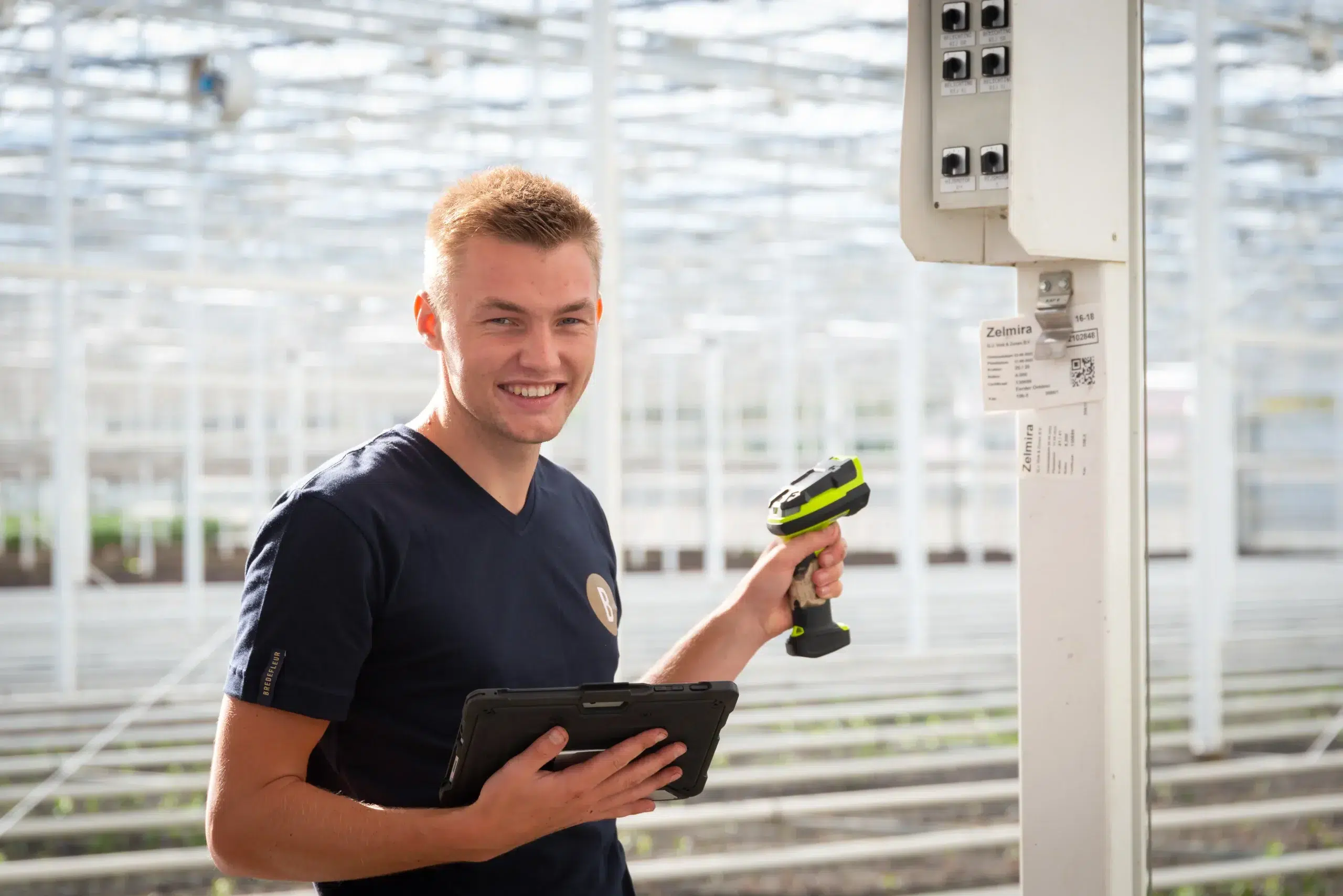 "Planting bulbs on your knees is a thing of the past for us; we recently started planting our bulbs fully automatically with the LilyMatic."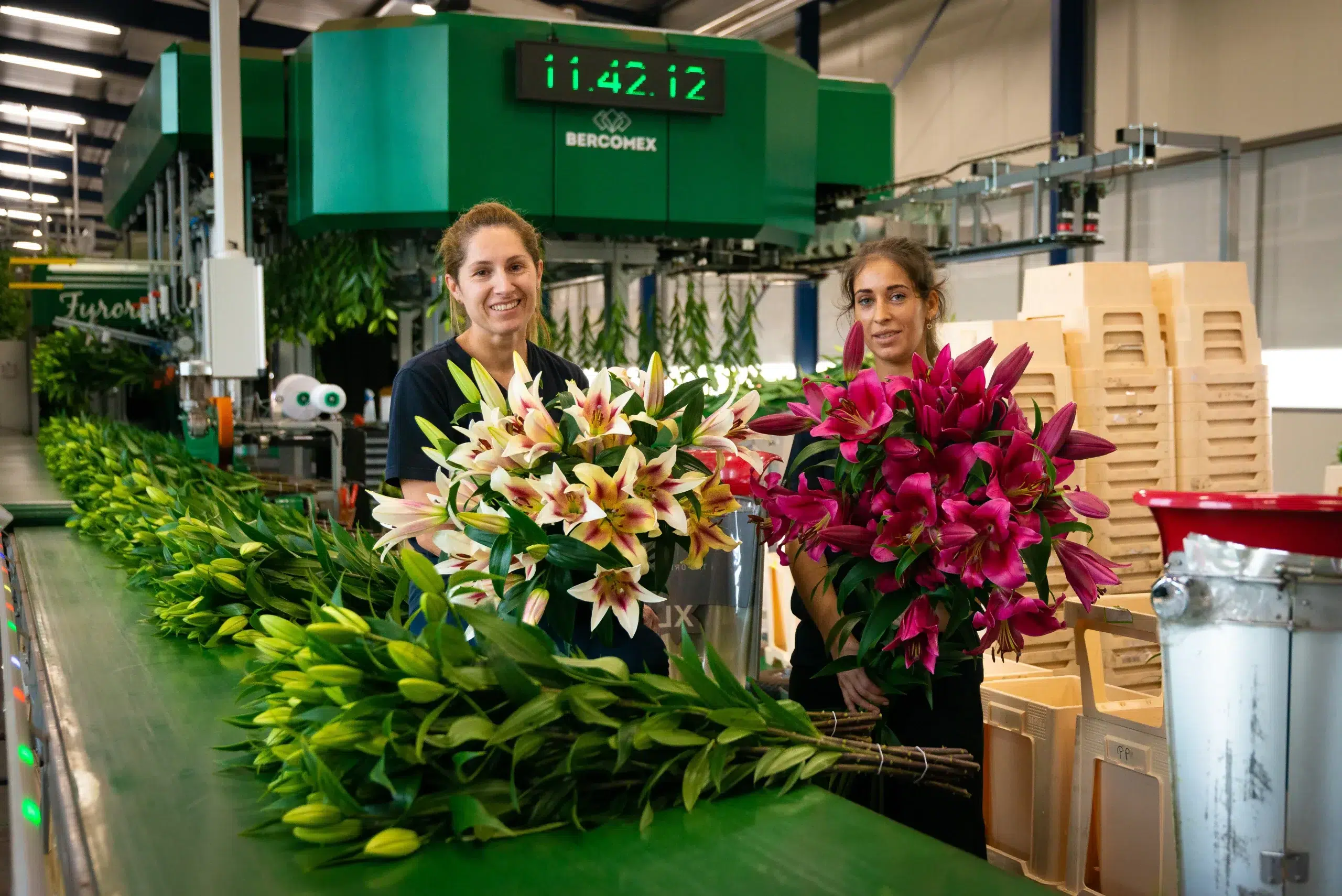 Groundbreaking automation
Fully automatic sorting machine
Did you know that there is a fully automatic sorting machine that puts together bunches of lilies? The Furora processes some 6000 to 7000 stems per hour. Bredefleur is the only company in the lily sector with this machine, which incidentally sorts much better than we can do by hand. Three types of camera (infrared, x-ray and colour) select the flowers by length, number of buds, ripeness, sturdiness, thickness of the stem and overall quality. Our employees just need to harvest and pack.
Planting bulbs automatically
Getting down on your knees to plant bulbs is a thing of the past for us; we recently started planting our bulbs entirely automatically with the LilyMatic. Employees no longer plant by hand, but stand on the machine. Each bulb is planted at exactly the same depth and in exactly the same way. This is a method of planting that ensures uniformity when growing the crop. The LilyMatic also works very quickly!
Smart packaging
Alternative packaging
We are currently investigating alternative ways of packing bulbs. Usually we supply bulbs in peat, because this extends the shelf life. But peat takes up a lot of space and is not infinitely available. That is why we are now carrying out various tests to see whether the bulbs can also be stored without peat.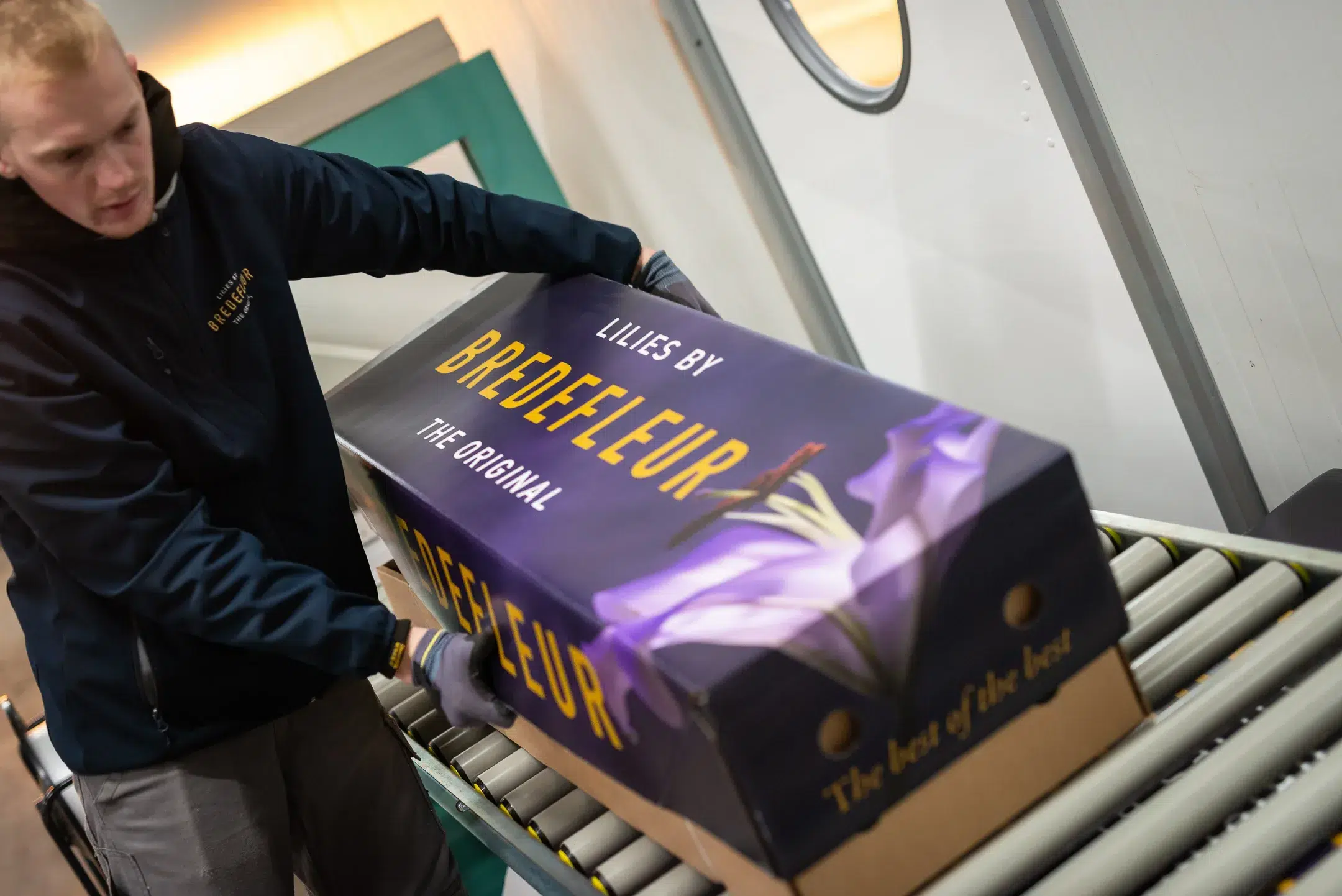 "Our flowers are available 24/7 in our webshop. The lilies you see in the shop are actually for sale."
Export box for distant destinations
Did you know that a special export box has been developed for distant destinations? This is the Quality Box, which is prepared for shipping at the nursery. That is done so carefully that the box requires no additional actions until it reaches the end destination. So if you order a box like this from abroad, the product is guaranteed to reach its destination in good condition.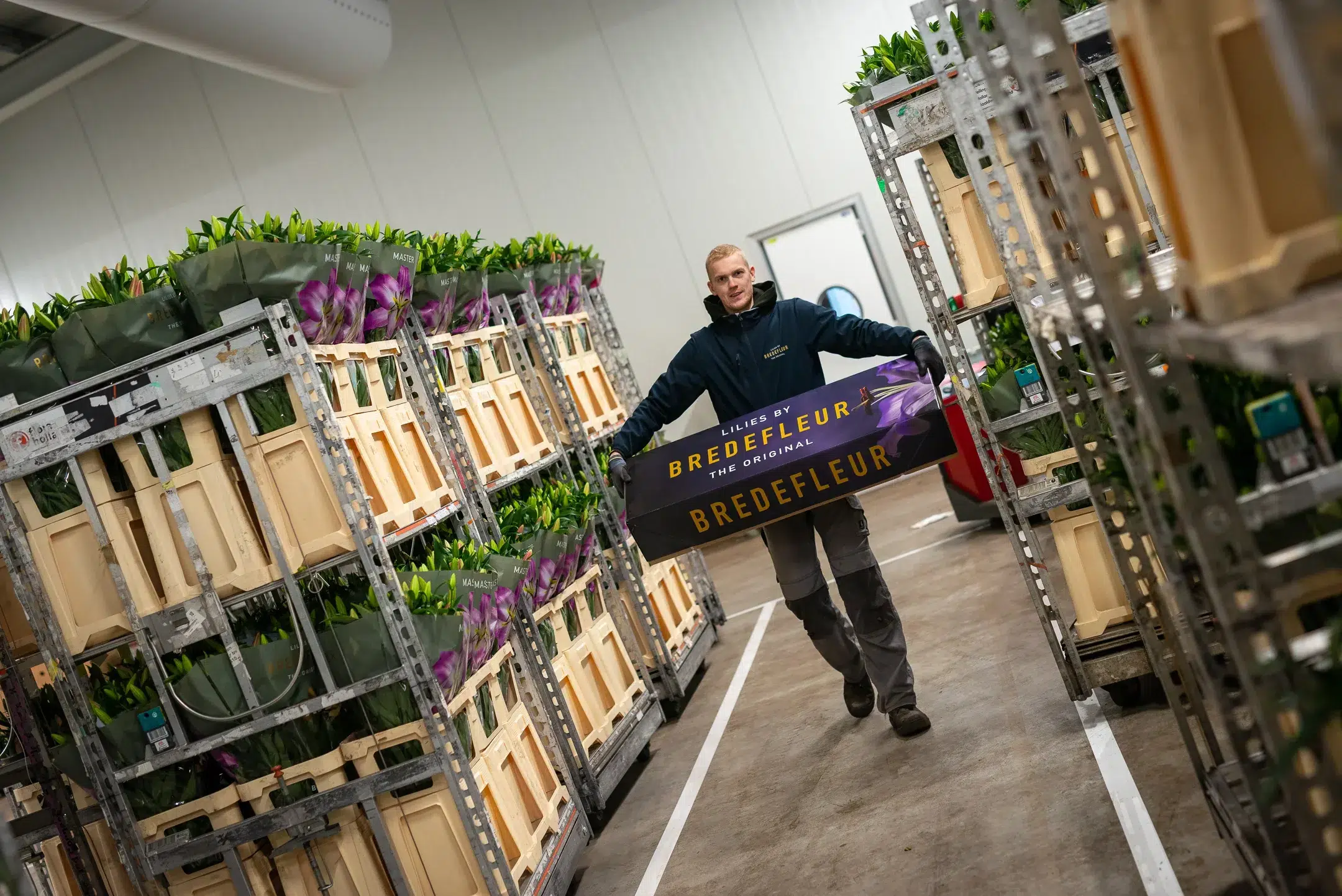 Original communication
24/7 lily webshop
Our flowers are available from our webshop 24/7. The lilies that you see  in the webshop are actually available to buy. This is very handy for florists: they order through their suppliers directly from our stock and therefore do not need to hold any stock themselves.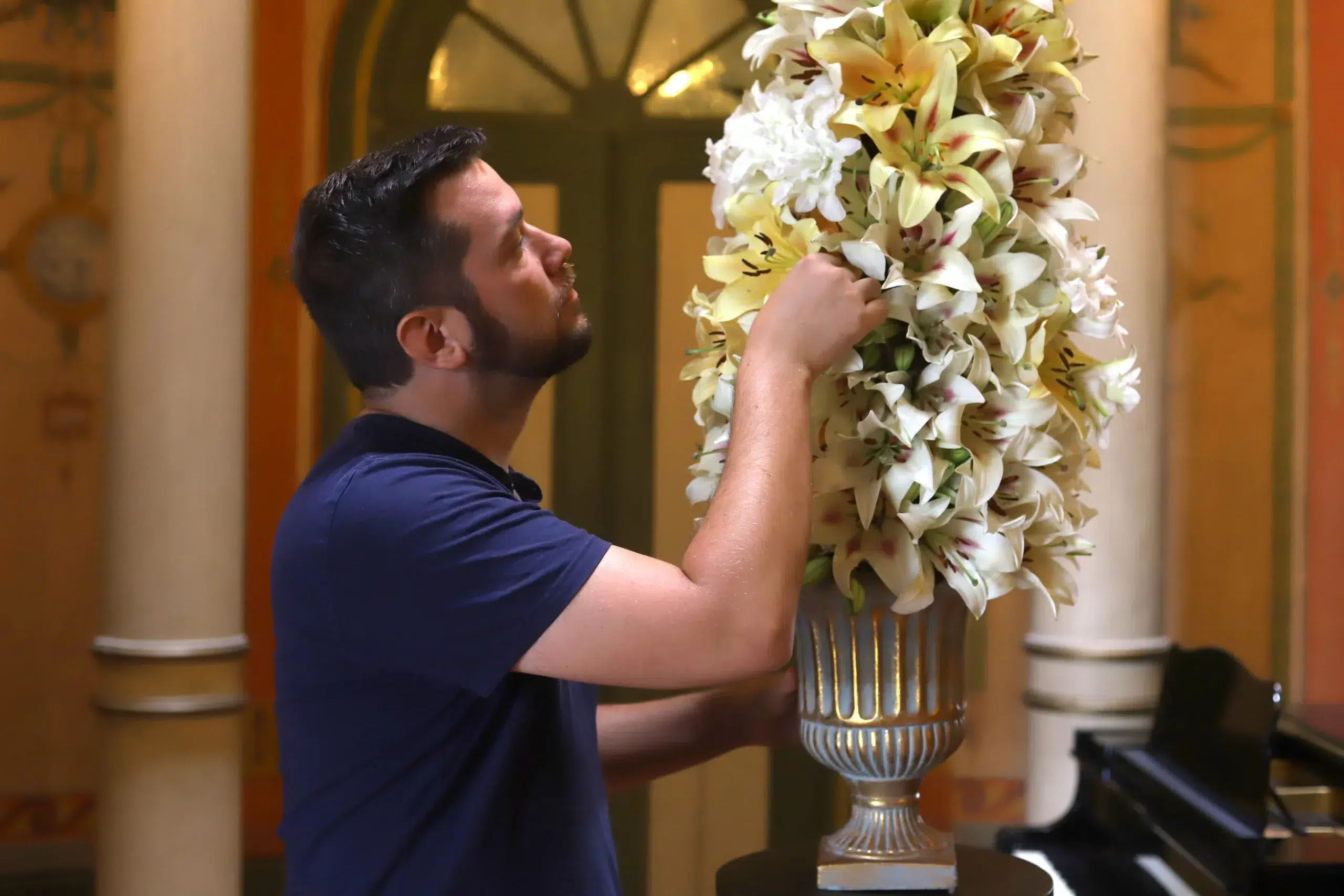 Platform for creation
Every month we pick a Bredefleur Friend (BFF): a florist who has got creative with our flowers. Florists who take part receive the newest and most innovative lilies. In this way we give lily fans a podium and the space to be inspired by our flowers.
BFF – Bredefleur